Black & White Dance Floor Hire – Hire Black And White Chequered Dance Floors
Adding a black & white dance floor to your event, wedding or party will change the appearance of your room.
If you have a black & white chequred dance floor at your party, wedding or event venue, chances are that a majority of your guests will be spending their time dancing and having fun on the dance floor.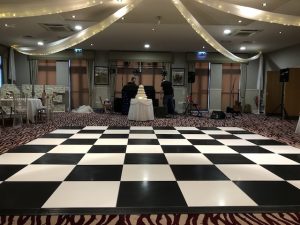 We have a wide range of black & white dance floor sizes available from 16ft to 30ft laid in many combinations.
If you are planning an event or wedding reception, you might be asking what size of black & white chequered dance floor will be right for your venue. With the help of the professionals at Decor Event Equipment Hire, you can hire the right size dance floor for y